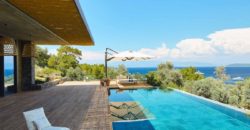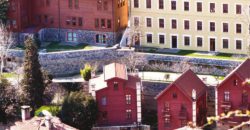 Description
Nef Reserve Gölköy offers a special life with 38 villa options in a unique location in Bodrum. The villa project, which comes to life on an area of ​​40,000 square meters, is implemented by Nef, the leading company in the sector. Having undertaken the construction of many good housing projects in the construction sector, Nef continues to sign projects with high brand value.
An aesthetic feast where the modern design approach is prioritized and green and blue are integrated, is brought to life with the signature of Nef.
The villas are all designed as duplexes and vary in terms of location, land share, number of rooms and width etc. Garden, pool, terrace sizes also vary in every villa.
Twin villas with 3+1 and 4+1 options
Detached villas 4+1, 5+1, 6+1 and 7+1.
Each villa has underfloor heating, with a sequential VRV air conditioning system.
All bedrooms are ensuite with the master bedroom also having a dressing room.
The complex is a no vehicle zone and shuttle buggies are available for transport within the areas. A valet semi enclosed parking area is available for your vehicles.
Communal social facilities include a restaurant, a 70 SQM infinity pool, spa section, fitness room, yoga and pilates studio, children's outdoor swimming pool in front of the Le-petit children's club.
Banyan Tree spa hotel, which will be available within our Nef Yalıkavak project, provides massage and spa service to hosts in Nef Gölköy.
A guest villa is available within the complex for your family or friends.