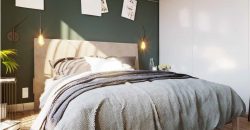 Description
Folkart Line project comprised of  422 housing  apartments and 40 commercial spaces, offers a new and comfortable life with its modern and elegant architecture, vast green spaces, upgraded infrastructure and social facilities.
Folkart Line project located in close proximity to the most important parts of Izmir, creates value with its central location, Close to Adnan Menderes Airport, Izmir Highway, Fair İzmir and shopping centers.
Various spaces have been constructed on folkart line project basketball and tennis courts, soccer fields, large sports complex, youth center, market area, parking lot and wide landscaped areas, Folkart Line combines quality with rich social spaces in a region that is set to become one of the prominent city centers of Izmir.
Living Room + Open-Plan Kitchen Entrance Hall Pantry Bathroom 1 Bathroom 2 Master Bedroom Bedroom Balcony
Size

98

Bedrooms

2

Bathrooms

2
Living Room Kitchen Entrance Hall Pantry Bathroom 1 Bathroom 2 Master Bedroom Bedroom Balcony Balcony 2
Size

115

Bedrooms

2

Bathrooms

2